Options Plus

Options Plus assists your salespeople from the moment they sit down with the homebuyer on the initial discussion through the final selection of Options. This system completely automates the intensive and time consuming paper process from start to finish by generating accurate options orders. It even automatically generate purchase orders to your subcontractors, provides your superintendents with immediate updates, and keeps everyone on the same page. The database is comprised of pricing, suppliers, subcontractors, cut-offs, and other vital data which is used to generate orders.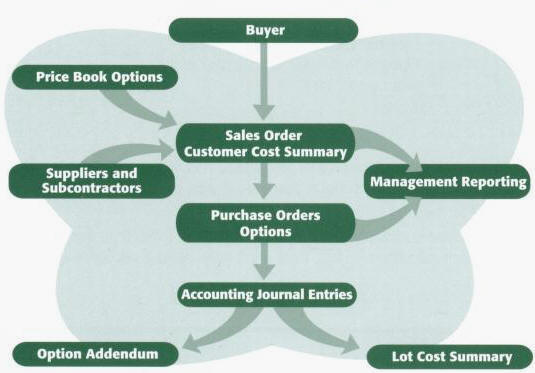 Automated ordering
Auto-generation eliminates Purchase Order typing, and the loss of revenue due to outdated or incorrect pricing or mistakes in calculating.
Plans
Allows for "Plan Specific" option pricing so that your salesperson only gets a listing of options specific for each buyer's plan.
Price Book
All current option prices are maintained on the database. Improving pricing accuracy. Provides professionally printed Price Book.
Prices
Auto mark-up feature makes price changes easy and speeds up initial cost and price set up.
Purchase Orders
Automatic generation of Purchase Orders with a push of a button.
Sales Orders
System produces a hard copy Sales Order for customer to sign. This can be tailored to each builder's requirement.
Management Reports
Lot Profit Analysis Summary Report
Ordered Option Recap by phase
Options Purchased by Subcontractor
and many more…
Options Plus greatly increases your staff's productivity and output capacity. Orders, whether they are customer option orders or supplier purchase orders, are generated in minutes not hours.
The Options Plus system allows your salespeople to spend more time with the home buyers and less time with their calculators – in fact, they won't even need a calculator anymore.
Sample Reports