February 28, 2009 by ZZadmin123

Scheduler Plus is designed to keep scheduling simple. Unlike generic scheduling software, it was specifically created for residential home builders. As a result, much of the complex set-up procedures have been eliminated. The reports were designed by and for construction managers to provide simple and concise information about each home under construction. What makes it even more valuable is its integration with the other modules and its ability to automatically manage and update your option cutoff dates.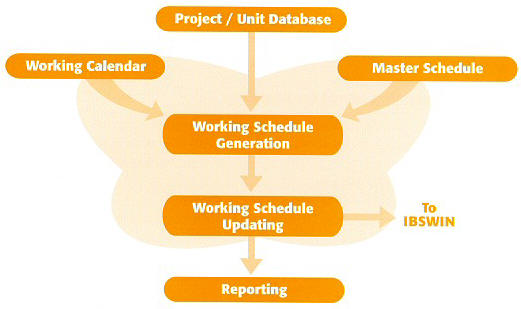 Plotting of each lot and plan/elevation
Provides fast and easy set-up of your lot information. Supports both predetermined construction sequence set-up, as well as lot by lot scheduling.
Calendar Set-up
Easy calendar set-up allows you to determine your non-working days. Provides for both standard (Saturday/Sunday) non-working days and other holidays.
Master Schedules
Provides easy one time setup of your construction tasks and the ability tailor it for each construction phase.
Unlimited Task Definition
Depending on the complexity of the product type you are building, you can set up as many tasks as required. Certain tasks can be flagged as "milestone" tasks for management reporting purposes.
Easy Working Schedule Generation
Initial generation of the "working schedule" is fast and easy. Just tell the system the lots you want to schedule, the master schedule you want to use, and the day you want to start construction.
Simplified schedule updates
As you update your schedule on a daily or weekly basis actual the system automatically provides a revised schedule with newly updated dates for the remaining tasks for each lot.
Field Updating via TracTime®
Scheduler Plus even provides updating in the field via TracTime® using pocket PC's.
Reporting the way you want to see it
The Scheduler Plus system provides many reporting options. You can "condition" the output to print only what you want to see. For example, print only the tasks that affect the plumbing contractor for all the lots.
Scheduler Plus provides your construction department with a valuable tool to communicate the status of construction for management purposes in a fast efficient manner. In addition, by interfacing with the other IBSWIN Modules, option cut-off problems can be greatly reduced.
Sample Reports