Wednesday Jul 2, 2014
We are pleased to announce the interface of the IBSWIN Sales Manager Plus with Docusign and its release to all clients in July 2014… Docusign is Cloud based system that provides a platform to automate the routing and signing of documents in a paperless environment.  Please contact us at sales@ibswin.com for pricing and implementation questions.  Integrated with the IBSWIN document merge function for Sales Agreements, it provides an extremely efficient way handle these extensive documents and greatly simplifies the processes for your sales agents.
Tuesday Feb 18, 2014
We are optimistic that the 1st quarter of 2014 will continue the housing recovery and many new and existing home builders will be looking to improve their software technology.   With all the new and improved tools that we have developed over the past 4 to 5 years, we are confident that any home builder can significantly reduce their operating overhead and manage their operational processes better with our IBSWIN system and other add on tools.
Check out the 1st Quarter Pharaoh Phacts for further updates — Pharaoh Phacts Newsletter 1st Quarter 2014
We look forward to hearing from you and providing a personalized software demo.
Tuesday Jul 9, 2013
We are very pleased to announce the release of the 12.09 version of our IBSWIN software. With this new release we are introducing an entirely new menu system that provides easier and faster system navigation (see image below).
Contact us at support@ibswin.com for the update instructions and password.
Please review the Pharaoh Phacts via the following link for further information — Pharaoh Phacts Newsletter 3rd Quarter 2013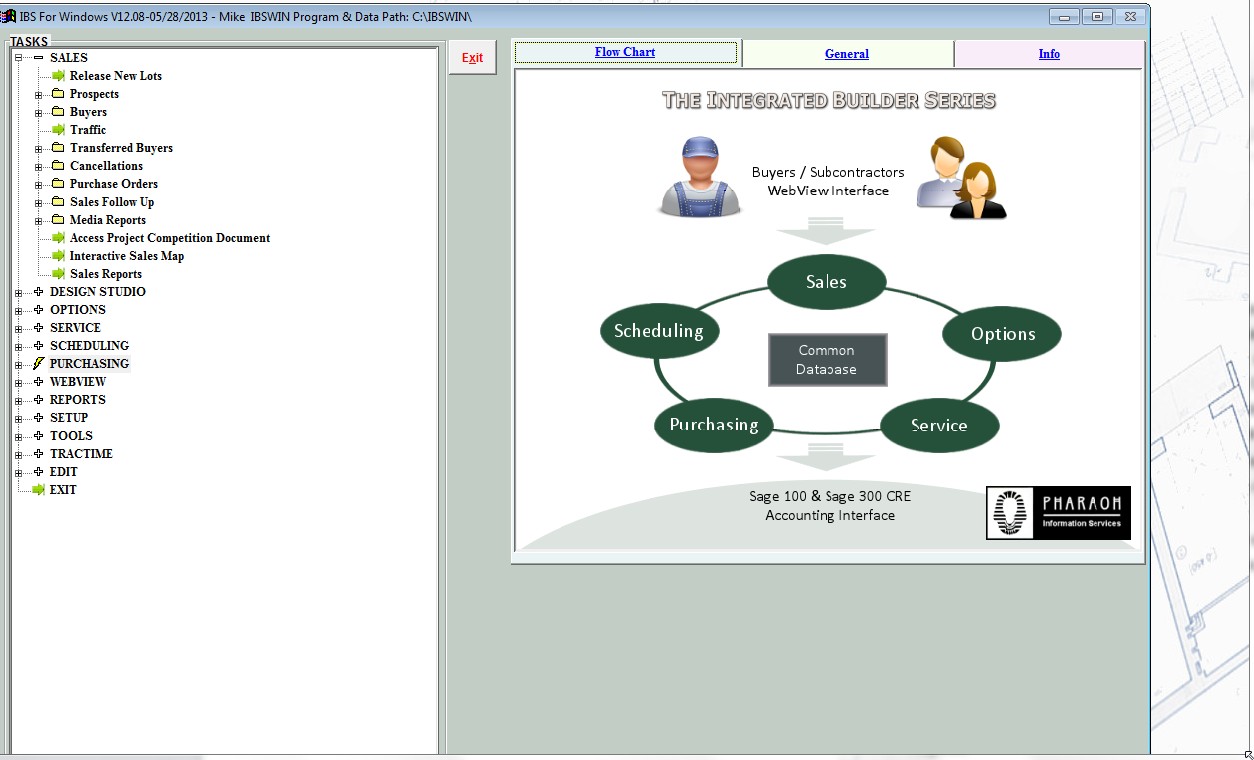 Thursday Jan 3, 2013
We are pleased to announce the release 12.08 of the IBSWIN Software is available for download from this Website.  Please contact us a support@ibswin.com for the current password information.
The primary reason for this release is to insure compatibility with Microsoft's Windows 8 release,  although it also still backward compatible with Windows 7, Vista, and XP.  In addition, we have added several nice improvements that we will be happy to review with you via a "free" Web meeting.
Please review the Pharaoh Phacts via the link below for further information — Pharaoh Phacts Newsletter 1st Quarter 2013
Tuesday Oct 9, 2012
Pharaoh Information Service is constantly creating and looking for new "Software Tools" to help our IBSWIN clients be even more productive.  Whether its graphic tools to provide a visual presentation of the IBSWIN data or Web based tools to provide more direct communication with your homebuyers and trade partners, we want to keep our clients one step ahead of their competition.  Here are some of the current "Tools":
Webview —

Your Internet based link to homebuyers and subcontractors.

IBSOnline —

Our cloud based system that provides access to your IBSWIN system via the Internet anywhere and anytime.

Field Manager —

Our simplified User Interface for your project managers using iPad or Note Pad computers in the field.

IN VIEW Studios —

Graphic tools that can paint a clear picture of your IBSWIN data and makes management reporting a snap.

Walk Thru Checklist —

Designed for the service manager walk thru on an iPad or Note Pad, it simplifies the process and make sure you have walk thru consistency.

Interactive Floor Plans —

Add sizzle to your Website by providing a tool for your prospects to really work with your floorplans.
For further information on what's happening at Pharaoh, check out our current 4th quarter newsletter by clicking on the link — Pharaoh Phacts Newsletter 4th Quarter 2012
Thursday Jun 28, 2012
In View Studios is Pharaoh's graphic design software partner providing excellent add-on products to our core IBSWIN modules.  They say a picture is worth a thousand words and that is eactly what In View Studios can do.   Using the In View Tools, you can turn your IBSWIN data into graphical pictures that provide a clearer picture for everyone involved.
Options Magic provides a tool to easily place electric options on your floor plans and prints a professional rendition of your floor plans. It can integrate this information into your Options Plus module or operate in a stand alone mode.  It not only looks good, more importantly it reduces errors.
Sales Map Magic creates a professionally draw project lot map with the status of each lot clearly indicated by the color code.  It is automatically created from the sales data entered in your IBSWIN system eliminating potential errors and providing immediate "real time" results.
Floor Plan Magic is the ultimate graphic tool if you are using the IBSWIN Designer Plus (Flooring) module.  It provides an extremely "cool" picture of the specific flooring products in your floor plans.  Based on your homebuyers selections, with one button push you can create an exact drawing of the your floor plan with the products clearly outlined in each room area.  Your homebuyer and installers will appreciate your professionalism.
Please click on the following link to keep up with other Pharaoh events — Pharaoh Phacts Newsletter 3rd Quarter 2012.
Tuesday Apr 17, 2012
Sunday Feb 5, 2012
With the new release of the IBSWIN and MasterView software in January 2012, we will be providing an alternative new report browser that provides some expanded capabilities.  The main benefit will be the ability to immediately create a PDF format of any report and Email it directly out of the browser.  It also will provide the ability to change the printer out of the display screen as well as other expanded functions.  If you are current on your Software Support for the quarter, please call our support line to load the update and get the special installation instructions.  We recommend that you get your IT specialist involved in the installation…
Tuesday Oct 11, 2011
With the advent of the IPad and other notepad and notebook type computers, we have created a simplified interface with just the functions and features your field project managers will need.  We call this new user interface "Field Manager Plus".   Sometimes less is better and with a simplified menu system with just the selections pertinent to your field personel, it provides access to scheduling updates, service request review and updating, buyer option review and approval, and many pertinent field reports. 
Field Manager Plus is designed to fit on the smaller 10″ screens that these typical notebook type computers have and provide a much better user interface than smart phones.  With cost of these devices now as low as $300.00, it is practical solution whose time has come.  With Pharaoh's IBSWIN Online, we can provide a completely "hosted" solution for all your office and field personnel or you can host it on your own inhouse server.  With a reduced cost per field user, it is an affordable alternative for today's mobile and connected world.  Contact us at info@ibswin.com or call us at 866-813-0398 ext. 1 for sales…   
Check out the latest Pharaoh Phacts for further current updates and information at the following link —  Pharaoh Phacts Newsletter 4th Quarter 2011
Wednesday Aug 31, 2011
One of Pharaoh's philosophies has been to stay focused on what we do well and find partnership "Tools" that help our clients be more productive.  One of the areas that we have been exploring this past year has been helping our clients be more efficient by reducing the paper flow by processing and filing documents electronically.  Rather than try and re-invent the wheel, we have found two products featured in this blog that are definitely worth taking a look at. 
The first product is Paperless Environments software that is sold and supported by EWA Software Solutions.  Paperless is much more than just a document processing system.  Especially if you are a Sage Software client, it can revolutionize the way that invoices and other documents are handled and routed through your company.  Not only can you eliminate the piles of documents stored somewhere in your file cabinets, you can let your superintendents simply review and approve invoices online anywhere.  Simplify the process while at the same time improve the controls.  Check it out further at www.ewasoftware.com.   
The other product that we are featuring is the ESignature Pads from Topaz Systems. Many of our clients have asked for a paperless signature solution that can be used out in your sales offices for your Sales Agreements.  Since we use Microsoft Word to create these documents, this solution from Topaz will work out of the box.  Please check out the following video link to get more information on this — http://www.actonsoftware.com/acton/fs/blocks/showLandingPage/a/277/p/p-0056/t/page/fm/0/r/%7B%7BEnv.RecId%7D%7D/s/%7B%7BEnv.SrcId%7D%7D
Don't hesitate to contact us directly on any of these add-on tools if you have further questions — Email us at info@ibswin.com or call us at 949-340-7600…