Scheduler Plus is designed to keep scheduling simple. Unlike generic scheduling software, it was specifically created for residential home builders. As a result, much of the complex set-up procedures have been eliminated. The reports were designed by and for construction managers to provide simple and concise information about each home under construction. What makes it even more valuable is its integration with the other modules and its ability to automatically manage and update your option cutoff dates.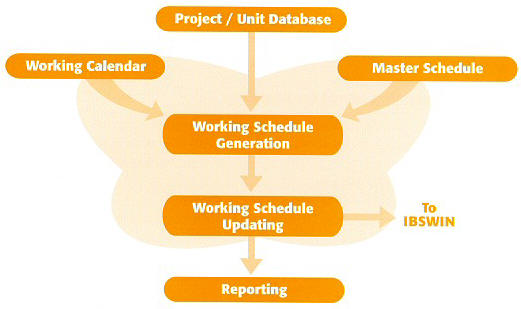 Plotting of each lot and plan/elevation
Provides fast and easy set-up of your lot information. Supports both predetermined construction sequence set-up, as well as lot by lot scheduling.
Calendar Set-up
Easy calendar set-up allows you to determine your non-working days. Provides for both standard (Saturday/Sunday) non-working days and other holidays.
Master Schedules
Provides easy one time setup of your construction tasks and the ability tailor it for each construction phase.
Unlimited Task Definition
Depending on the complexity of the product type you are building, you can set up as many tasks as required. Certain tasks can be flagged as "milestone" tasks for management reporting purposes.
Easy Working Schedule Generation
Initial generation of the "working schedule" is fast and easy. Just tell the system the lots you want to schedule, the master schedule you want to use, and the day you want to start construction.
Simplified schedule updates
As you update your schedule on a daily or weekly basis actual the system automatically provides a revised schedule with newly updated dates for the remaining tasks for each lot.
Field Updating via TracTime®
Scheduler Plus even provides updating in the field via TracTime® using pocket PC's.
Reporting the way you want to see it
The Scheduler Plus system provides many reporting options. You can "condition" the output to print only what you want to see. For example, print only the tasks that affect the plumbing contractor for all the lots.
Scheduler Plus provides your construction department with a valuable tool to communicate the status of construction for management purposes in a fast efficient manner. In addition, by interfacing with the other IBSWIN Modules, option cut-off problems can be greatly reduced.
Sample Reports
Design Studio Plus assists your designers from the moment they sit down with the homebuyer on the initial discussion through the final flooring selections. This system completely automates the consuming paper process from start to finish by generating accurate flooring, options and window orders. The database is comprised of pricing, suppliers, installer information, allowances, and other vital data used to generate orders.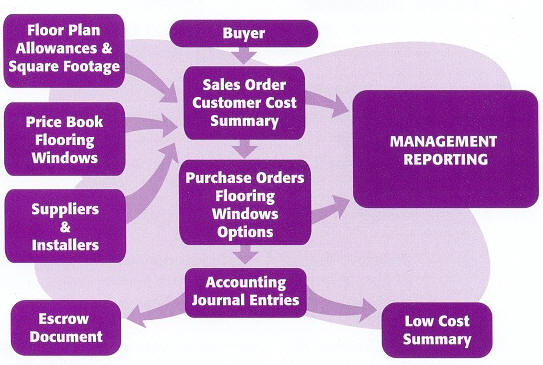 Automated Ordering
Auto-generation eliminates Purchase Order typing, and the loss of revenue due to outdated or incorrect pricing or mistakes in calculating.
Plans
Room descriptions, square footage, and builders allowances for each floor plan are maintained on the system eliminating the need for your designer to do calculations since this program interfaces with the price book and does the price extension automatically.
Price Book
All current flooring, window and option prices are maintained on the database – improving pricing accuracy.
Prices
Auto mark up feature makes price changes easy and speeds up initial cost and price set up.
Purchase Orders
Provides automatic generation of Purchase Orders from original input flooring orders and window orders with a push of a button.
Buyer Flooring Contract
System produces a hard copy Buyer Flooring Contract for customer to sign.
Allows multiple "What if" scenarios for the customers regarding the combination of the different flooring selections. Maintains on file, the multiple "What ifs" until the customer finalizes order.
Costing Worksheet
Produces all appropriate information in a final report for the accounting department.
New Add-on Modules
New Window Designer and Floorplan Magic add-on modules provide expanded capabilities for your designers.
Management Reports
Lot Analysis Report by Lot.
Superintendents Report.
Ordered Flooring Listing Report.
Product Price Lists – Measurements and Takeoffs Report.
Designer Plus greatly increases your staff's productivity and output. Orders, whether they are customer flooring orders or supplier purchase orders, are generated in minutes not hours.
The Designer Plus system allows your designers to spend more time with the home buyers and less time with their calculators – in fact, they won't even need a calculator anymore.
Pharaoh Information Services, Inc. will be moving effective February 20, 2009.  Since this is a Friday, we will still be responding to service calls, although the response might be delayed somewhat.  Our new address and phone numbers will be:
Address:       21572 Sitio Verano,  Lake Forest   CA  92630
New Main Phone:  866-813-0398     (New toll free number)
         New Fax #:   949-748-5142
No changes in the Email address or Website address
Looking forward to continuing to work with your company during this challenging time.